Dr Saroja Gunasekera
May 23, 2019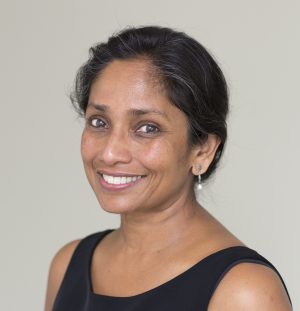 Saroja is passionate about providing patients and their families with a comprehensive, personalised, holistic medical care as well as mentoring and life coaching for those seeking that service.
Saroja graduated from the University of NSW in 1990 and completed 3 years of postgraduate training in the Illawarra Hospital Network. She undertook her specialty training in General Practice in a variety of General Practices and in 1996 was awarded the Monte-Kent Hughes Medal for the highest national mark in the RACGP Fellowship Exams.
From 2003 till 2012, whilst continuing as a part time GP, she was the Director of Training for the Illawarra's GP Training Provider developing extensive educational and training opportunities for GPs.
In 2006, Saroja was appointed Clinical Associate Professor in General Practice at the University of Wollongong Graduate Medical School. She continues her commitment  to education by working with medical students and junior doctors in training.  In addition, she is committed to enhancing her patient's understanding of their health and wellness.
She balances work in General Practice with an active family life and enjoys the fabulous coastal life of the Illawarra region.
Dr Gunasekera speaks English and Singhala.
Book Appointment